Gung Hay Fat Choy!

Laurel Ace is grateful to celebrate our 100th year on MacArthur Blvd and we're happy to be #AceHelpful #EssentialRetail during this unprecedented epidemic for our global community. At this time of the Lunar New Year, we just want to share how thankful for your continued belief in us at Laurel Ace. Keep social distancing & washing your hands please, and keep wearing that mask!
COME BY THE LAUREL THIS SATURDAY when our traditional Lion Dancers bestow good luck to the customers and merchants in The Laurel! This year, you can watch it streaming on Facebook Live on the Laurel District Association's Facebook Page! Thank you to the Buk Sing Kung Fu Academy for leading the Lion Dance Procession in the Laurel on 2/20/21.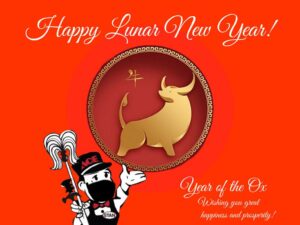 Throughout this unprecedented past year, we're doing our best to keep some semblance of normal, with our February Red Hot Buys through 2/28/21: CHECK IT OUT
We have been grateful to remain Forever Essential & Always Helpful during the pandemic, and we are able to again accept AceHardware.com orders coming to the store and/or delivered from Laurel Ace. Thank you dear customers for your understanding as we navigate these unprecedented times.
Store Hours: 7am-7pm Monday through Saturday, and 8am-6pm Sundays.
Thanks for your support, cooperation, and understanding during 2020! Here's to a bright & healthy Year of the Ox!
Our goals: Better Service, Better Selection in the BEST Neighborhood!
THIS YEAR IS OUR CENTENNIAL! Oakland has counted on Laurel Ace Hardware for 100 years, and since announcing new management in April 2017, the new owners have reinvested in the community to continue the Century-Long tradition of service for our Laurel District neighbors! Count on us to celebrate our 100th Anniversary in 2021 – when we are able to celebrate together with you!
Thank you to all our neighbors who have recommended us on Nextdoor, Yelp, Google, Facebook, and via the back of your register receipt! We listen to every single review and are delighted that we have delighted so many of you with our five-star service! Check out some recent recommendations here!
Changes & Continuity!
You'll find the best of the familiar faces at Laurel Ace, with great helpful new team members joining our legacy team.
We recently put up a new exterior sign and new awnings after painting the outside of the store.
We expanded the Nursery a year ago.
The dust from our 2017 renovation is long gone:

You'll now find 4 registers in a more convenient location,
new fixtures throughout the store,
reformatted horizontal aisles which allow additional products (including a larger Housewares Section, Nursery & Garden Section, and the addition of Seasonal Merchandise) to make your shopping more FUN at Laurel Ace! (given social distancing standards.
Thank you for shopping small with us at Laurel Ace!
Services
at Laurel Ace
NOTE: Some services may be temporarily suspended because of COVID19. Thanks for your understanding.
Offering Chip Keys and Fob Keys as well as Screen Repairs, Glass and Plastic Sheeting cut to size, pipe cutting and rethreading, Rug Doctor Rentals, propane gas tank exchange, and chains piping and tubing cut to order.
Other services include Monday 55+ Senior Discount Days (10%), Paint Color Matching, Household Battery and Fluorescent/CFL Recycling, 10% Military Discount year-round, and more! Plus bring us your old Old Glory and we will have your flag retired in a manner befitting our great nation.
And now – Thermostat recycling along with knife sharpening!
Click here to see all of our services
Ace Rewards
Instant Savings
Ace Rewards members get INSTANT SAVINGS every month on select sale items. Take advantage of hassle-free rebates at the register by joining Ace Rewards today at any register – and let us rebate you for shopping at Laurel ACE,  Standard 5&10 ACE and Marin ACE!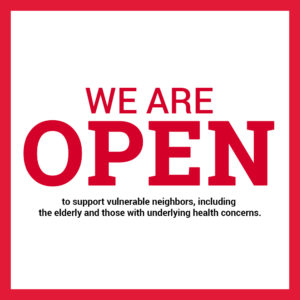 Employment at Laurel Ace, Standard 5&10
and Marin Ace

ALWAYS ACCEPTING APPLICATIONS FROM HELPFUL PEOPLE: Pick up an application at the store.
Click Here for more information, job descriptions, and applications for jobs at all our locations.
Free Pints of Paint at Laurel Ace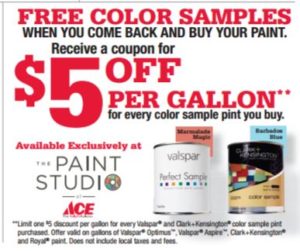 Visit Our Other Stores
NEW to our family as of April 24, 2019: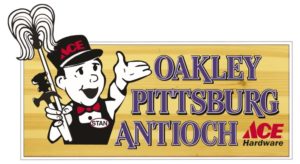 We're delighted to take over management of these three beloved neighborhood hardware stores in Contra Costa County! Come visit our newest members of the family at Oakley Ace, Pittsburg Ace, and Antioch Ace.
Standard 5&10 Ace & Marin Ace Hardware
Standard 5&10 Ace is our proud big sister, an 80-year landmark in San Francisco with one final remaining five and dime store in SF's Laurel Village Shopping Center. In 2011, we expanded and opened Marin Ace, our hardware store in San Rafael. And Laurel Ace is delighted to be the oldest hardware store in our family. At all of our stores, we strive to bring you unmatched selection, value, and service.
Marin Ace is located in the ♥ of Marin County at the former Sizzler, off 101 across from the Civic Center at the North San Pedro Road exit in San Rafael.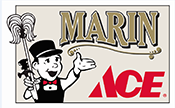 Marin ACE Hardware
180 Merrydale
(formerly The Sizzler at 3725 Redwood Highway)
San Rafael, CA 94903
415/479-9393
Visit Standard 5&10 Ace and say hi in person. And right next door, our housewares annex, Stan's Kitchen!

Standard 5&10 Ace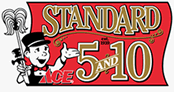 3545 California Street
San Francisco, CA 94118.
415/751-5767